On the 4th of November, I took the ICE (Germany's fast train) from Hamburg to Copenhagen. This specific train route is very special because the train goes on a ferry from Puttgarden, Germany to Rødbyhavn, Denmark. This train-on-a-ferry concept is what compelled me to plan a trip to Copenhagen.
The ferry ride takes about 45 minutes. The train is scheduled perfectly so that just as soon as it pulls onto the ferry, the boat departs. Once on the ferry, it is announced that we must leave train during the crossing and go up to the deck.
Up in the main area of the ship, there is a cafeteria, an all-you-can-eat buffet, a duty-free shop, a currency exchange, an info desk, an arcade, and plenty of places to relax. I spent the crossing time exploring the ship and going out on the deck to look out. Shortly before docking in Rødbyhavn, we were instructed to return to our vehicles. Naturally the train was the first vehicle off of the ferry.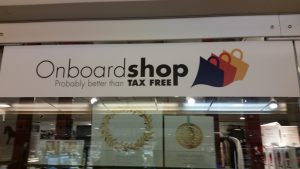 Once we reached the Rødbyhavn Station, the train stopped and Danish Immigration Police came through to check passports and IDs. I presented my German ID card for the check, as I was in the EU on my German passport.
Because we were within the Schengen Area, these new passport checks surprised me. After looking at Wikipedia, I found out that these temporary passport checks are allowed under the Schengen Agreement in extreme cases such as the migrant crisis. I knew this was happening between Denmark and Sweden on the Øresund Bridge, but not between Denmark and Germany.
Because we were now in Denmark, the DSB (Danish Train Company) ticket checker came around to check tickets. The train announcements also switched to Danish. It's a little funny, because you're on a (clearly) German train, but it's turned into a Danish train.
The train journey continued without issue, and in a couple of hours we had arrived in Copenhagen. The train-on-a-ferry experience turned out just as exciting as I had expected.